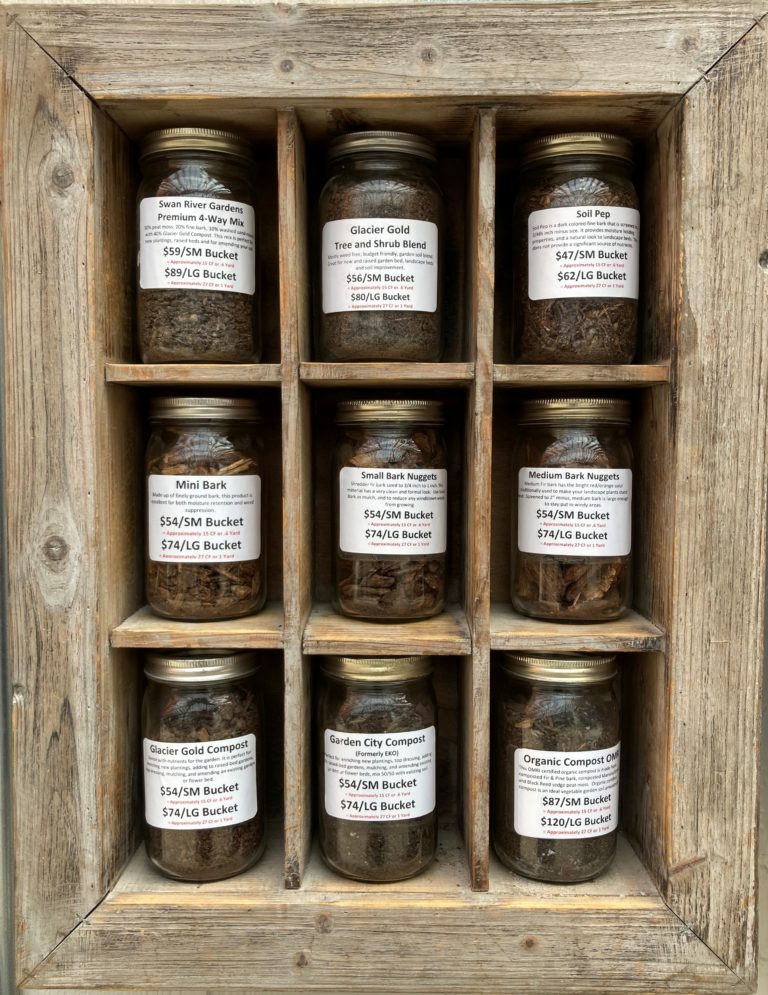 Soils, Mulch & Amendments
What kind, How much & Why???
Are you having trouble deciding which soil, compost or mulch to use? Or struggling to determine the amount needed for your project? We'll make it easy and help you answer both of those questions!
Here at Swan River Gardens, our bulk supply yard and bagged material is stocked with quality products well suited for Montana. Whether you're a beginner gardener, experienced landscaper or maybe you've been gardening for years but haven't quite seen the results you'd like from all your efforts. In any case, we've got what you're looking for to create the healthiest growing conditions for your garden and landscape.
How much do you need?
Don't let this scare you! We have made it easy with the Scott's material calculator. It will do the math for you! Just enter your garden dimensions to determine the number of bags or yards of bulk material you will need.
But wait! Can you do the calculation? Why yes! Click here for a simple chart to assist you on the amount of product you will need.
Tips & Techniques
Bags or bulk (by the yard), which would be best for your gardening project?
If you have a smaller project or are limited on ways to haul the material then bagged material is right for you. Bagged product is easy to load in your car, haul to your garden area and can be easily stored.
Whereas, if your garden project is larger and you have a means to haul the material or have space for it to be delivered then bulk is right for you. Bulk is a more economical choice but will require extra effort to get it to your garden area. You will become one with your wheelbarrow and shovel!
Our bulk yard is open 9am-3pm all season for loading of your truck or trailer. A pickup truck can accommodate 1 to 2 yards of material. Or choose our delivery service to have larger quantities of bulk materials delivered. See our easy bulk online ordering for more information.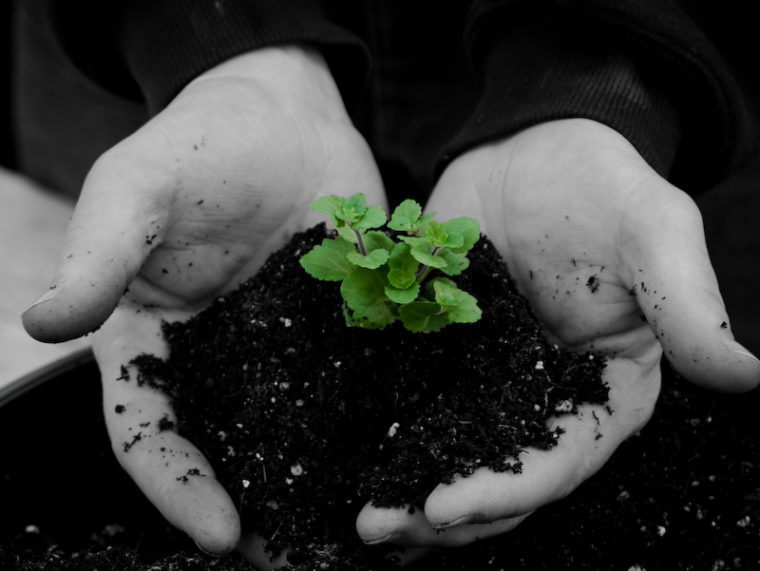 Soils
Does it really matter which soil you use?
Soils are considered the foundation of all plantings.  If it's in a container or your landscape, starting with the appropriate soil for your task will ensure proper growth of your plants.  Here you'll find quality products necessary to create that foundation.  For those gardeners who prefer a more organic approach, explore our Espoma line for organic options.
We have the experience and knowledge to help make your Montana garden thrive.  Come chat with us and together we will help make your soil decision easy.
Click on the product you're interested in for detailed information.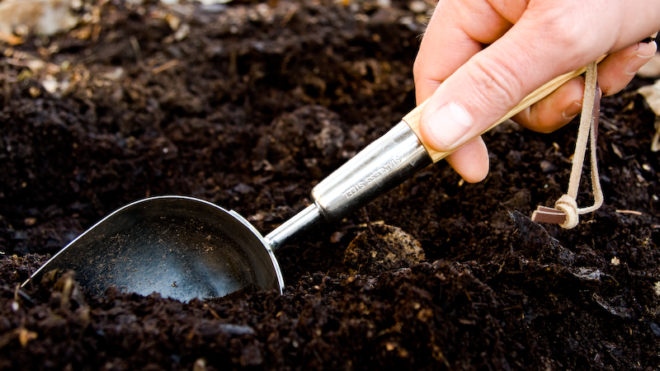 Mulch
Say YES to Mulch!
Mulch serves several important purposes in the garden and landscape.  Not only will it make your landscape and garden beds look good, it also suppresses weeds and holds moisture while keeping your plant's root system cool.  Mulch can also be used in your pathways to keep dirt off of your kids, pets and you!
Click on the product you're interested in for detailed information.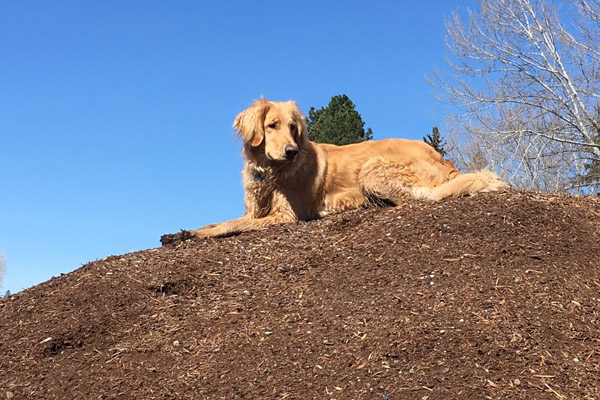 Good choice of mulch for moisture retention, weed suppression and paths.
The aromatic oils in the cedar provides an added benefit of a natural bug repellant.
Good choice of mulch for moisture retention, weed suppression, paths and improving soil texture.
Excellent clay buster!
Soil Pep contains no nutritional value or weed seed.
Made up of finely ground bark, chips and soil.
As a mulch, this is great choice for moisture retention and weed suppression while adding nutrients for plant development.
Breaks down quickly, yearly application is recommended.
Amendments
What you feed them matters!
Just like us, plants require proper nutrition to ensure overall health.  When you have the right nutritional balance, you will be rewarded with strong root systems and an eye-catching appearance of your plants, flowers and lawn.
Where to start can be difficult but our knowledgeable crew will help you identify your garden's deficiencies and will teach you how to properly use soil amendments to create a healthy garden.  For those gardeners who prefer a more organic approach, explore our Espoma line for organic options.  When you supplement your soil with the proper amendments, your garden will appreciate your efforts!
Click on the product you're interested in for detailed information.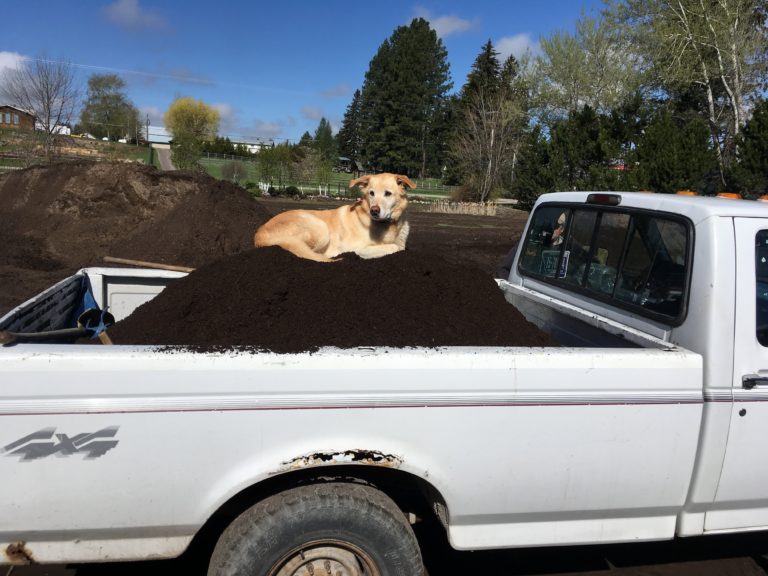 As a local resource, we are here to help with pest, disease and cultural issues in the garden.  With our product knowledge and selection of organic and non-organic chemicals, fertilizers and amendments, we are sure to solve your gardening issues.  Whether you're after garden tools, watering wands, fertilizer, soil amendments, disease and pest control products, landscape fabric, trellises or plant supports, we are your one-stop shop. 
Fertilizer

Garden & Flower Fertilizer
Yes, all plants need fertilizer!
Adding organic or non-organic fertilizers to your garden and potting soil, will maximize the development of your trees, shrubs, flowers, fruits and vegetables. Let us help you choose from our wide variety of fertilizers with mineral, plant or animal-based origins. Or pick from the specific fertilizers designed for landscape plants, flowers, vegetables, blueberries, roses and more.
Tips & Techniques
For our annual flowers, hanging baskets and tomato plants, we recommend using a water-soluble fertilizer, like Jack's, regularly for endless flowers and fruit production.
Apply a granular fertilizer to your lawn and landscape plants. A slow release granular, like Osmocote, provides a slow-released feeding for your trees, shrubs, perennials, fruit trees and small fruits. Our favorite fertilizing method, one time and done!
Disease & Pest Control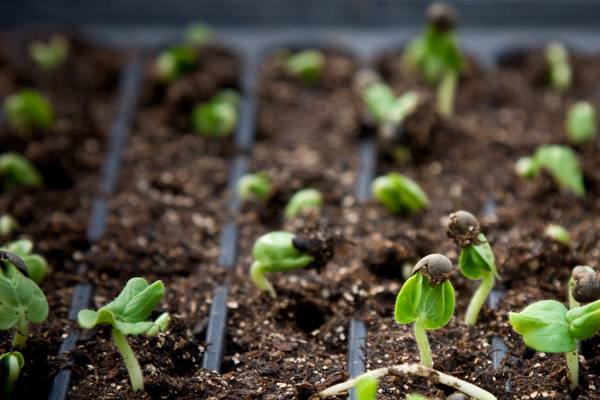 Disease & Pest Control
Do you know what bugs me?
Yep, were talking about the bad bugs and plant diseases that affect your plant's health.  Our wide selection of both organic and chemical-based products are proven to solve any garden issue.  Bring us pictures or a sample of your plant problems (in a plastic bag, please) and our knowledgeable crew will get you the right solution.
Tips & Techniques
Fighting disease or pests on your plants? Giving them a little extra "love" by way of fertilizer and water helps the plant recover faster and build up its natural defenses to fight the problem.
Repellents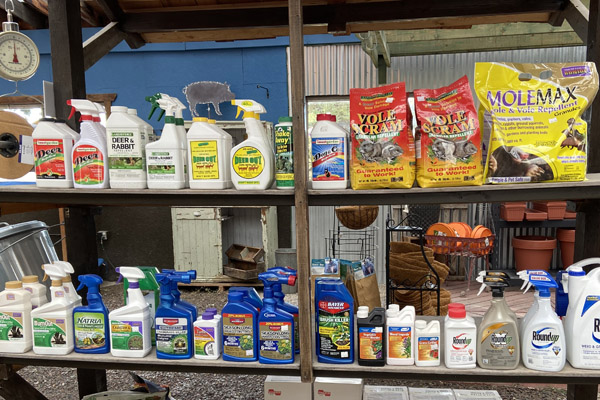 Repellants

Wait, is that a Deer? I love deer!
We've all had that moment, we see those dark eyed beauties and think "how cute!" That is until they start eating your garden, landscape and flower pots! Whether you have deer, voles, woodpeckers or the cute little chipmunk chomping your plants, we'll help you discover the right product for real results.
Tips and Techniques
For the best results when gardening with deer, we recommend using a rotation of foliar sprays. Our favorites are Liquid Fence, Deer Out and I Must Garden Deer Repellent.
Tools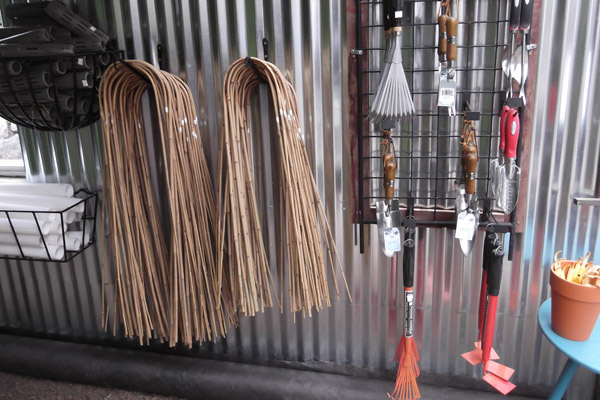 Gardening Tools

Tools Rule!
Having the right tool for working in the garden, turns a chore into an enjoyable experience.  Choose from Felco pruners, high-quality shovels, hula hoes, Dramm watering wands, watering cans, gloves, Hori Hori garden knives to everything in between.  We aim to carry the tools needed to make your gardening easy.
Gardening Supports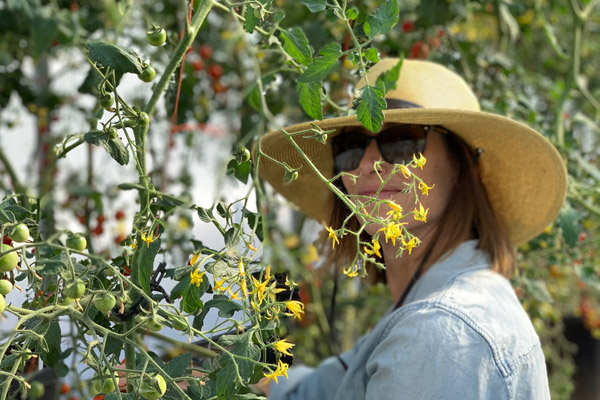 Gardening Supports
Plant Whisperer
When you whisper to your plants to stay strong but yet they fall over, you know it's time to give them support.  Choose from our wide selection of tomato and peony cages, to bamboo stakes and trellises.  Come see us today, we are happy to help you find the best solution for your plants.
You may also be interested in