Who's ready to have a porch party?
That's right, a porch party with flowers!  Let us help you get a jump-start on glamming up your porch with our NEW "Buy Now, Pick Up Later" annual hanging baskets online ordering. 
Your jump-started basket will be the ultimate show-stopper of color, performance and instant gratification that brings happiness throughout the season.  Simply, choose your favorite basket combination, the number of baskets and the date you would like to pick up and we will do the rest. 
Easy Peasy!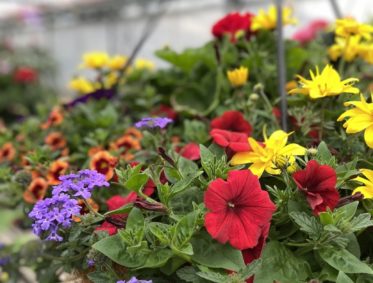 12" Standard Color Options
Around the Campfire Basket
Purple Mtn. Majesty Basket
Front Porch Swinging Basket
Mt. Aeneas Sunrise Basket
Stars & Stripes Forever Basket
(Red, White & Royal Purple- Sun)